How to backup NAS to OneDrive in 2021.
Cloud, cloud and more clouds – it's a term that's very common in business now, and it's becoming more and more common in the home. Cloud storage is a big market. Microsoft OneDrive has been around for quite some time, and its service has won the favor of many users. With a simple operation, users can create a free 5 GB account. In addition, OneDrive is also integrated with Microsoft Office, which further enhances the user's product experience.
However, some users are no longer satisfied with using third party file hosting services. They will choose to use NAS (Network Attached Storage) drives to host certain services, or simply use NAS to create a server for home storage sharing.
Using the NAS can indeed facilitate data storage, and all data is under your control. However, the more they are stored, the more the corresponding data will also increase. Since the NAS system is network attached storage built on hardware products, a hardware problem will lead to storage errors. When your computer or local hard drive fails, efficient data backup will help avoid unnecessary anxiety and emotional distress caused by data loss.
Did you back up the data? Currently, there are many data backup solutions on the market. This article will provide two effective backup methods: use Synology NAS to back up data to cloud drives; use third party tool to backup data from NAS to cloud drives.
How do I back up a NAS to OneDrive?
At present, the most common way is as follows, users in need can choose any of them.
Use Synology NAS to back up data to OneDrive
Synology DSM is the foundation of DiskStation which integrates file sharing, centralized backup, RAID storage, media streaming, virtual storage, and basic functionality of using DiskStation as a network video recorder. Synology also provides users with free mobile apps, including support for iOS, Android, Windows Phone, and Kindle Fire.
The centralized backup function can realize file synchronization between the NAS and OneDrive. Here are the specific steps:
Step 1. Login according to your account, install Cloud Sync from Synology NAS Package Center.
2nd step. Open the Cloud Sync interface, click "+" to authorize Cloud Sync to access your OneDrive account.
Step 3. Once the connection is created, you can start configuring your backup. Define a local and remote path as well as a synchronization direction. To select "Download local changes only" and check the last element of the interface.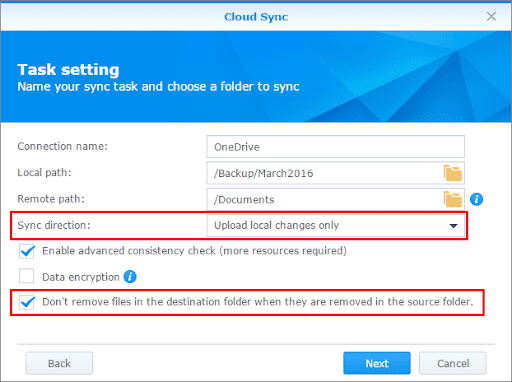 Complete your setup by clicking "Next" and then apply NAS backup to OneDrive.
Using a third-party tool to back up data from the NAS to OneDrive
MultCloud, which is a cloud file manager, has 3 main functions: Cloud Sync, Cloud Transfer, Remote Upload. In addition, it supports over 30 consumer clouds, such as NAS, Google Drive, OneDrive, Dropbox, MEGA, Flickr, Google Photos, and protocols such as FTP, FTPS, WebDav. Therefore, not only can you use this tool to backup NAS files to OneDrive, but you can also realize data transfer and sync between other cloud drives.
Compared to Synology NAS, it is easier to use MultCloud to backup NAS to OneDrive.
Step 1: Registration
Go to the MultCloud home page to register an account. If you don't want to register at the moment, MultCloud also supports the creation of a temporary account. (Note: Registration is completely free.) Of course, you can also use a Facebook or Google account to register. In all cases, the mode of registration is yours.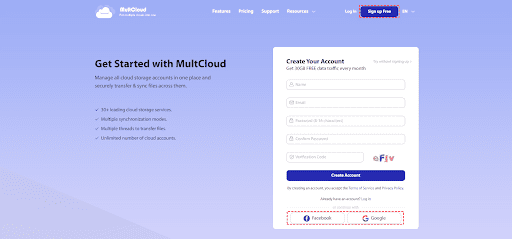 Step 2: add a NAS
Once the registration is complete, the main interface is the one shown in the figure below. Click it "Add a cloud" icon to choose the NAS to add to MultCloud. Note that there is a small difference between adding a NAS and adding a regular cloud drive. Before adding a NAS, you must activate WebDav or the FTP server on the NAS server.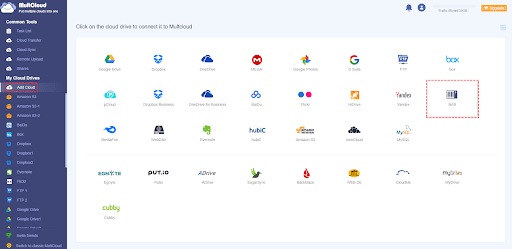 Step 3: add OneDrive
Adding your OneDrive account is much easier, just click on "OneDrive", sign in to your account, and make sure you allow MultCloud to access your OneDrive files. When NAS and OneDrive are added, you will see NAS and OneDrive on the left panel.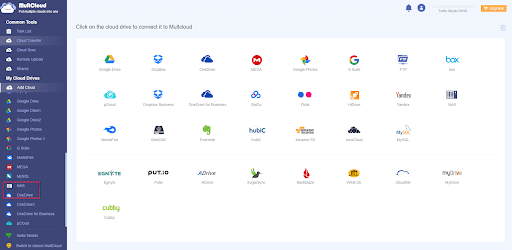 Step 4: Cloud Sync
Please click "Synchronization in the cloud", select your NAS as the source directory, select OneDrive as the target directory, and then click "Synchronize now" to start synchronization.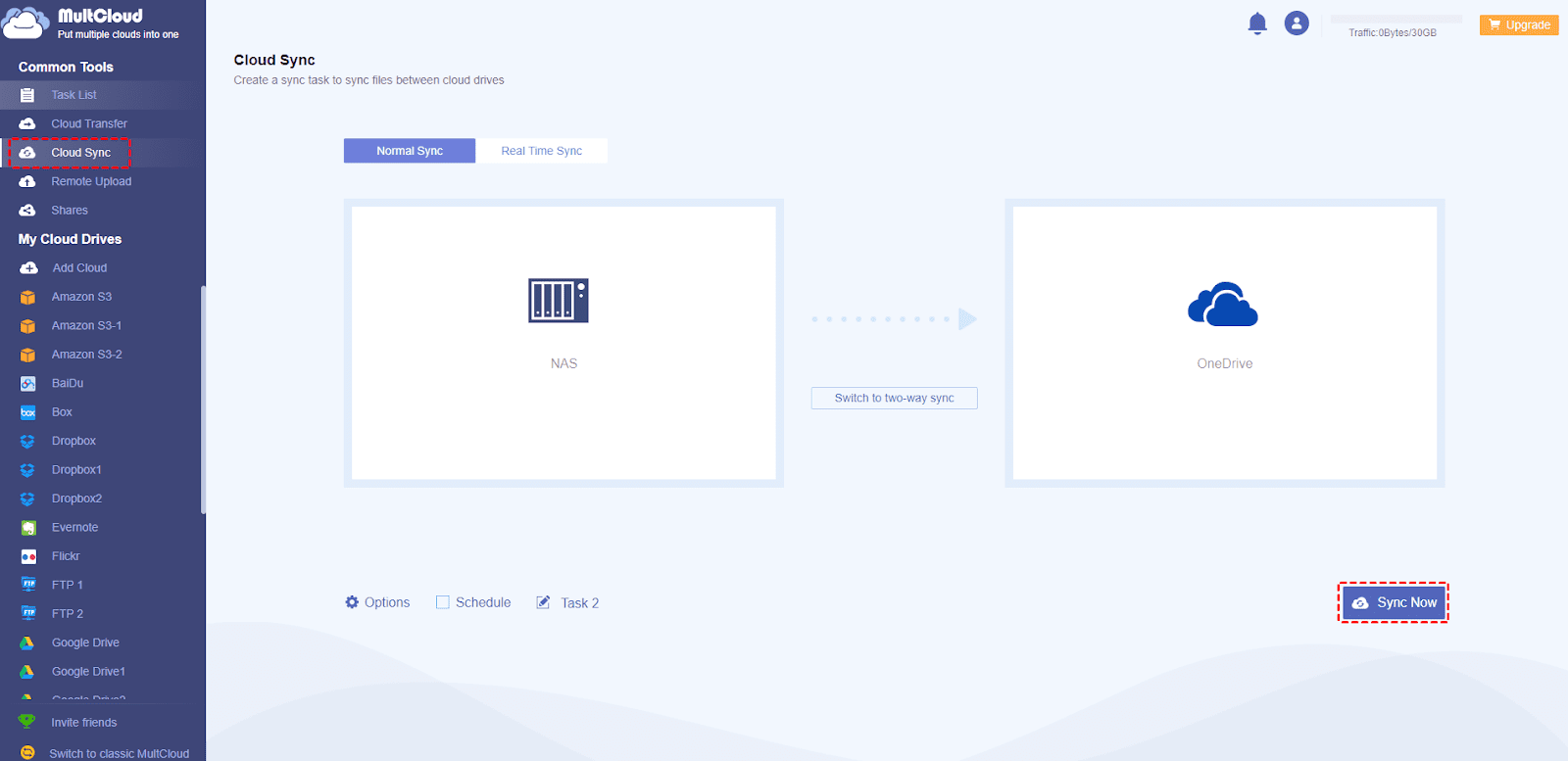 summary
The above two methods can achieve sync and backup from NAS to OneDrive. You can choose according to your needs. But in terms of file transfer or synchronization, the functions provided by MultCloud are more suitable for users, since its operation is relatively simple.
Another interesting point, MultCloud offers "Cloud Transfer" and "Remote Upload" functions. If you want to perform a large amount of data migration operations, such as migrate Dropbox to OneDrive, "Cloud Transfer" can help you very well. For "Remote Download", you can use this function to transfer files to cloud drives by scanning magnetic links and torrent files.