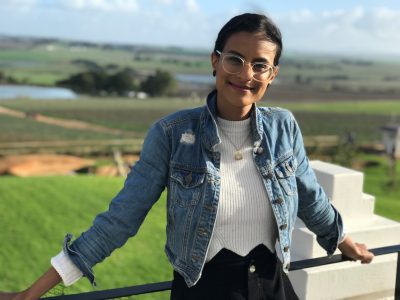 Female and racialized journalists bear the brunt of the online hate campaign
Racism, misogyny, harassment and threats of violence were not among the things Raisa Patel expected to frequently encounter while becoming a journalist. Yet, as the target of a vicious online hate campaign, she faces it every week.
Patel graduated from Carleton's School of Journalism and Communication in 2019 and now covers federal policy for the Toronto Star. In her current role, she has faced a barrage of harassment, including a recent online campaign against Canadian women and racialized journalists. The campaign, which started last year but accelerated in August, sent emails and messages threatening violence and hurling countless racist and sexist slurs.
Patel became a target after showing her support for several colleagues on Twitter.
"Whoever is behind is monitoring social media and looking to see who is speaking out on behalf of their colleagues. Then they become the next target," says Patel.
Many of the campaign's victims have been quick to publicly share screenshots of the emails and messages they've received, and Patel says that's important.
"I think the public needs to know what it's like to be a racialized journalist today," she says. "It is essential that people realize what it takes and what we are up against."
Targets of online hate
According to a 2022 report by the Canadian Association of Journalists and the Canadian Journalism Foundation, racialized women and 2SLGBTQ+ journalists are the top targets of online hate.
In a survey conducted by Carleton journalism professor Matthew Pearson, 56% of participants said they had been harassed or threatened on social media, with Arab, Asian and Black media workers reporting the highest rates of harassment and online violence. The survey also revealed that compared to men, at least twice as many women increase security measures at work or at home, leave their city/country/region of origin, change their telephone number or email address, or leave social media.
"You're constantly on your toes," says Patel.
Harassment of journalists is not a new phenomenon, but the extreme nature and prevalence of this current campaign has sparked much debate around the solution.
Megan Shaw, a Carleton MJ graduate and CTV News anchor, highlighted some important considerations in her thesis Harassment on assignment: gendered emotional labor in Canadian newsrooms. She suggests newsrooms implement an email filtering system, offer training and online security audits, work to foster inclusive environments and news coverage, and provide free mental health support.
For Patel, journalism schools also have a role to play.
"It's not about discouraging people or scaring them off, but the more tools you are armed with before entering the field, the better," says Patel.
Strategies to Support and Empower Students
In addition to the Carleton School of Journalism commitment to help reverse decades of systemic racism and make newsrooms more inclusive, it is also taking steps to implement curriculum changes to help students deal with bullying. Professor Trish Audette-Longo is launching a project focused on developing digital security skills in journalism courses, thanks to a two-year teaching grant from the Faculty of Public Affairs.
"Part of the work we can do here at journalism school is to think about how we can train and empower students who are going to get into this field," says Audette-Longo. "We have to think about what they will be like when they are leaders in newsrooms and how they are going to support the people they work with."
The project will begin in the fall term with brainstorming sessions to identify knowledge gaps and possibly bring in external expertise to determine how to fill these gaps. The final goal is to build teaching modules that will be implemented in undergraduate and graduate programs.
The Carleton School of Journalism will also continue to facilitate public discourse on the issue of hate online. Following the Journalism under siege panel that took place earlier this year, the school has just announced another major event. On September 27, CBC's Omayra Issa will present the 22nd Kesterton Conferencewhere she will talk about her multimedia project Black on the Prairies and the torrent of online racism and hate she received in response.
Despite the most recent online hate campaign against them, many racialized female journalists said they would not back down. Patel is one of them.
"At the end of the day, they want to silence us. They want to discourage us. They want us to be afraid to do our job. And we're not going to let them silence us that way.
—
More stories
Wednesday, September 7, 2022 in Events, Journalism and Communication
To share: TwitterFacebook